The decentralized finance market has continued to experience a free fall as the broader cryptocurrency industry continues its bearish cycle.
According to decentralized finance market analytics platform, DeFiPulse, the Total Value Locked (TVL) on smart contracts and other DeFi related DApps, has plunged to its current value at $53.86 billion from its all-time high (ATH) of $86.208 billion set on May 12, 2021.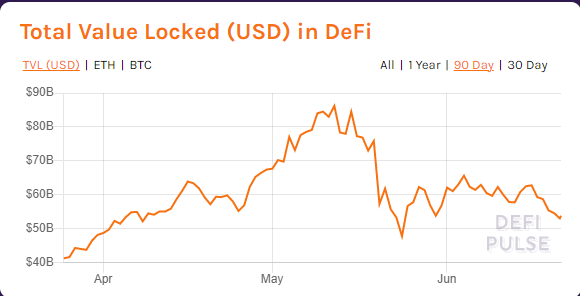 Every DeFi related project and platform has been reacting in unique ways with the ongoing market correction. There has been a series of displacements from one task to another, signifying that individual project performance is broadly diverse beyond the normal DeFi market hit.
Currently, DeFi lending platform Aave is topping the ranking with $10.98 billion in total assets locked. Decentralized exchange platform Curve Finance ranks second with $7.20 locked, while Maker, the iconic Ethereum-based lending platform, ticks $6.77 billion in total assets locked.
Ethereum (ETH) has trailed the normal market decline per the types of assets locked, falling from its peak of 11.03 million ETH back on April 20 to 8.631 million ETH today. However, Bitcoin has shown a positive upward movement against the current trends in the DeFi world. As a result, the total value of the premier cryptocurrency locked is pegged at 172,474 cryptocurrency, based on the proof-of-work blockchain. Bitcoin was created in 2009 by a mysterious creator, Satoshi Nako…">BTC, up from the 94,367 BTC locked as of April 4, 2021.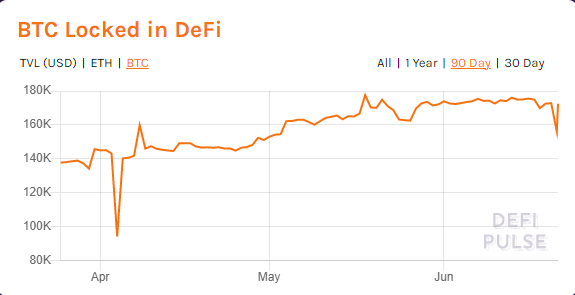 It is not surprising that the trend in the total lockup, especially on the part of Bitcoin. The asset price has suffered from a massive plunge from its ATH above $64,000 set back in May, following its broad energy concerns, as blown up by Tesla CEO Elon Musk and the ongoing clampdown on Bitcoin miners in China. However, rather than losing their assets, Bitcoin users notably save it up on DeFi to earn passive income. Suffice to say that some retail investors consider this option a better alternative than an outright sell-off at a loss. 
Image source: Shutterstock