Bitcoin (BTC) was down by 6.31% during intraday trading to hit $33,182, according to cryptocurrency="" space.="" its="" missio…="">CoinMarketCap. This price drop is attributed to China's intensified law enforcement against domestic BTC mining activity, whereby more than 90% of this sector has been affected. 
These sentiments were echoed by crypto analyst Joseph Young who noted that a slow down in retail momentum and miners moving out of China affected Bitcoin. He explained:
"I think two main things are putting pressure on Bitcoin. 1. BTC miners moving out of China – Have to fund migrations of facilities – Causing bearish sentiment in China 2. Retail momentum slowing down – China & Korea seeing less activity."
Young also pointed out that BTC miners have been selling (per on-chain data) in recent months, particularly FUD (fear, uncertainty, and doubt) occurred in China.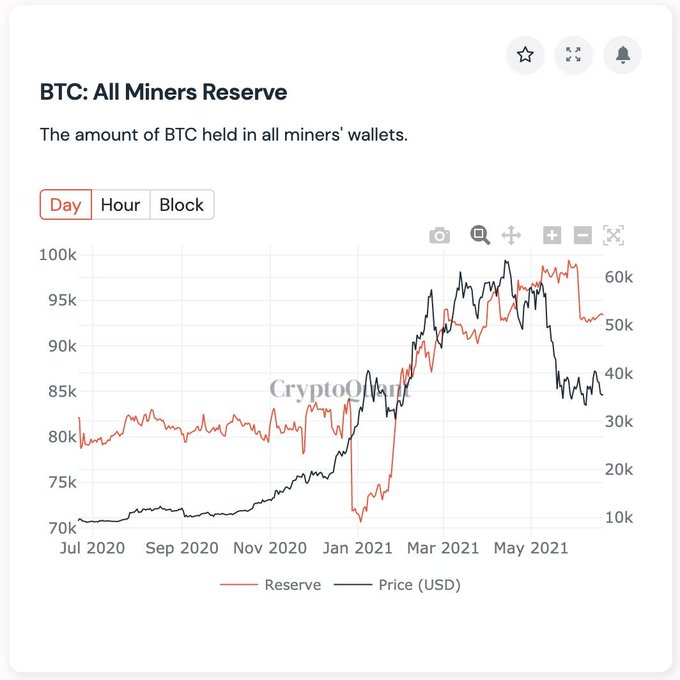 Therefore, many miners were migrating out of China to nearby countries to set up new mining facilities.
As a result, the BTC miners were forced to sell their holdings to get the needed capital to establish the necessary facilities.
On the part of retail momentum dropping, the crypto analyst acknowledged:
"We have retail interest slowing down. There has been heavy selling pressure coming from China. Futures exchanges with lots of Chinese users have been heavily short (negative funding). Yesterday, Binance Futures even hit -0.027% funding rate for Bitcoin."
Bitcoin's social sentiment on Twitter slumps
According to Santiment, the drop in Bitcoin's price to below $33k level has triggered social sentiment on Twitter to hit lows since 2020. The on-chain metrics provider stated:
"Falling below $33,000, Bitcoin's social sentiment on Twitter is at its lowest level since the start of the major crypto rally a year ago."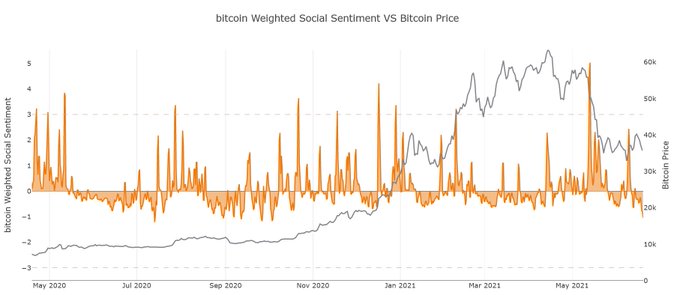 It, therefore, remains to be seen how BTC plays out going forward because, together with blockchain space. Through these sm…">Ethereum (ETH), they emerged to be the best risk-adjusted assets over the last year based on the Sharpe Ratio. 
Image source: Shutterstock