Ethereum (ETH) recently broke the record by surging to the $4,400 level as this network continues to gain steam.
Santiment believes that an increased utility has triggered this upward trend. The on-chain metrics provider explained:
"Ethereum enjoyed a steady climb on the number of active addresses over the past month, which was key to establishing its new all-time-high of $4,457. Increased utility continues to be one of the main proponents for price gains."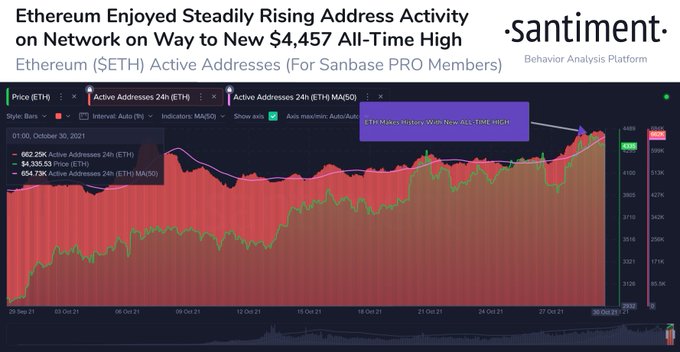 Ethereum's usage has been boosted because it is the most sought-after network in booming sectors like non-fungible tokens (NFTs) and decentralized finance (DeFi).
For instance, the total value locked (TVL) in DeFi on the Ethereum network recently crossed $100 billion. 
DeFi is founded on blockchain-based smart contracts that fulfil certain financial functions based on the underlying code. 
Ethereum's Altair upgrade seeks to revamp validators' incentives
On October 27, Ethereum's Altair upgrade went live to support light clients and deal with validator incentive issues.
Furthermore, these upgrades updated measures meant to tackle bad actors and inactive nodes.
Lucas Outumuro, the head of research at IntoTheBlock, noted that the Altair upgrade makes Ethereum more decentralized, secure, and environmentally friendly. 
He added:
"Altair also improves the Beacon Chain's security through more severe measures: – Fully inactive nodes stand to lose 15% of their stake (up from 12%) – Minimum slashing penalty for bad actors doubled – Slashing penalties have a 2x multiplier based on the % of validators slashed."
The Beacon Chain or Ethereum 2.0 was launched in December 2020 and sought to transit the current proof of work (POW) concept to a proof of stake (POS) framework. 
This development comes a few months after the London Hardfork or EIP 1559 upgrade was established on August 5. 
This upgrade introduced the first-ever deflationary block on the Ethereum network because scarcity was raised every time Ether was burnt after being used in transactions. This feature was meant to help eliminate inflationary tendencies that the network was accustomed to before. 
Image source: Shutterstock