Ethereum (ETH) continues to surpass Bitcoin (BTC) is the world's first open-source, peer-to-peer cryptocurrency developed by a pseudonymous person or group of people under the …">Bitcoin in terms of the value settled on-chain daily, as acknowledged by market analyst Lark Davis.
He pointed out:
"Ethereum is still settling 3X as much as Bitcoin every day on-chain! Incredible! I highly suspect this gap will increase now that we have layer twos like Optimism coming online."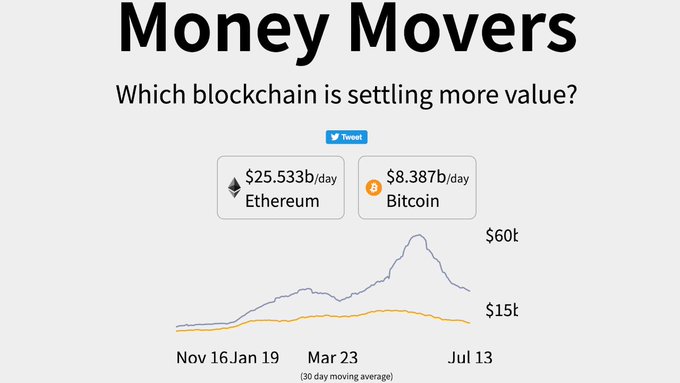 Despite Ethereum plummetting to lows of $2,000 based on the recent market crash, its network continues enjoying notable activities because of a drop in average fees. 
Recently, Ethereum's average fees fell to $2.19, which was the lowest level it had gotten since December 2020. As a result, crypto analytic firm Santiment believes that this was a promising sign that ETH's utility could rise. 
The neck-to-neck dominance battle between Ethereum and Bitcoin continues to play out. For instance, in late June, ETH's daily active addresses surpassed Bitcoin for the first time in crypto history. Precisely, Ethereum's daily active addresses shot up to 649,000, whereas those of Bitcoin stood at 580,000. 
ETH top 10 largest addresses continue to accumulate
According to Santiment:
"Ethereum's top 10 largest addresses now own the highest percentage of ETH's overall supply (20.58%) since May 2017. After dropping as low as 18.46% after the All-Time-High, they've now accumulated 2.12% more of ETH's total supply in the last 41 days."
Therefore, ETH whales see the current consolidation as the perfect storm to accumulate more holdings.
The number of active wallets on Ethereum-based DeFi protocols also topped the 3 million mark, as disclosed by data firm Dune Analytics. 
ETH was down by 4.35% in the last 24 hours to hit $1,938 during intraday trading, according to cryptocurrency="" space.="" its="" missio…="">CoinMarketCap. As Ethereum locked in the ETH 2.0 deposit contract continues to outway the one being mined daily, it remains to be seen whether this will kickstart the much-needed upward momentum.
Image source: Shutterstock