Ethereum (ETH) was up by 1.52% in the last 24 hours to hit $1,972 during intraday trading, according to cryptocurrency="" space.="" its="" missio…="">CoinMarketCap.
This renewed momentum is propelling ETH miner balances on the road to recovery, as acknowledged by Santiment. The on-chain metrics provider explained:
"Miner balances for Ethereum have been rising steadily for the past month or so. After miners held a staggering 163.3K ETH back on March 26th, it dipped to as low as 94.2K on June 6th. Now, balances are on the road to recovery back to 112K."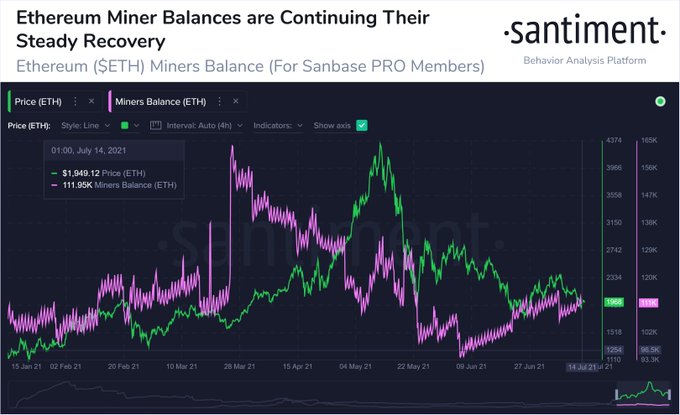 Ethereum mining has been on the receiving end based on the recent crypto market crash, partly triggered by an intensified crackdown on crypto mining by Chinese authorities. 
For instance, market analyst Lark Davis recently noted that Ethereum staked in the ETH 2.0 deposit contract continuously outweighed the one being mined daily, which was a bullish sign. 
Ethereum 2.0 (ETH 2.0), also known as the Beacon Chain, was launched in December 2020 and was regarded as a game-changer that seeks to transit the current proof-of-work (POW) consensus mechanism to a proof-of-stake (POS) framework.
Ethereum transactions surged to $2.5 trillion in 2021's second quarter
According to Ryan Watkins, a researcher at MessariCrypto:
"In Q2 2021, Ethereum settled $2.5 trillion in transactions. This represents +65% QoQ and +1,490% YoY, and puts Ethereum on pace to settle $8 trillion in 2021."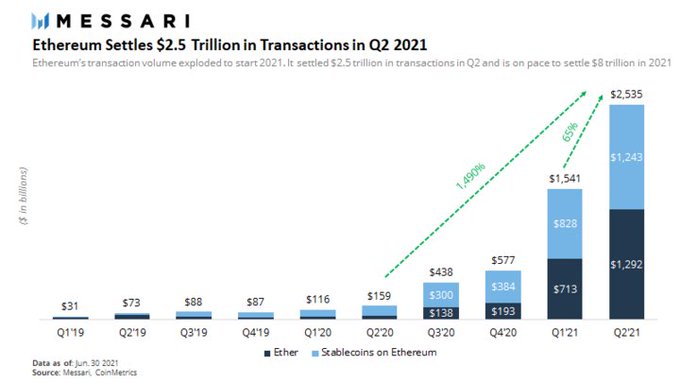 Ethereum's on-chain transactions continue skyrocketing because it is settling three times more value than Bitcoin (BTC) is the world's first open-source, peer-to-peer cryptocurrency developed by a pseudonymous person or group of people under the …">Bitcoin daily. 
Davis acknowledged:
"Ethereum processed 4 trillion on-chain for around 0.25% in fees Paypal did 285 billion, fees of 3.4% (paid by merchants) With Optimism, Arbitrum, Polygon, and ETH 2.0 fees will drop even further for Ethereum."
Ethereum's increased on-chain transactions have been boosted by low average fees, which recently dropped to $2.19, and this was the lowest level it had gotten since December 2020. 
Image source: Shutterstock