Bringing Crypto to the Real World
Electroneum is a mobile cryptocurrency that allows users to earn and transact ETN without a third-party bank account and is making serious strides with mass adoption and real-world use.
Blockchain.News caught up with Electroneum CEO and founder Richard Ells, who spoke about Electroneum's beginnings, its rapid expansion of users, gig economy influence, and its collaboration with big companies, NGOs, and universities across the globe. He also gave us insight into the underlying structure of Electroneum's blockchain.
Making Crypto Mining Easy with Mobile Mining
Richard Ells' entrepreneurial career began in the 90s when he started a digital agency, and later founded a social media management software business that sold to companies like Herbalife, Forever Living, Avon, and Unilever.
After witnessing the rise of Bitcoin, Ells decided to start mining BTC and other coins for himself, which was a very complex and painstaking process. He thought, "there has to be a better way to make crypto accessible to people. Let's make a system that everyday people with no technical skills can use. That's where the idea was born."
To get ETN off the ground with users, Electroneum offered a mobile mining feature on their app, airdropping ETN to users. Due to tax regulations and the inflationary effect of the mining, the operation ended, but not before accruing a massive number of users and holders of the currency, which was essential to get noticed and obtaining real-world value.
Regarding this phase of the operation, Ells explained, "It was totally viral. One guy says he's earning some money this way, then the next guy asks about it, and they just sign up by word of mouth. We literally saw it go out geographically in a viral way."
Achieving Mass Adoption
Electroneum's biggest achievement, according to Ells, has been the unexpected adoption of ETN across the globe, especially in developing countries, with millions of users, hundreds of thousands of real-world transactions, and about 200,000 top-ups of mobile phone data with ETN.
The mass adoption of ETN was initially helped along, as previously mentioned, through allowing users to mine ETN themselves, but continues to accelerate via business partnerships and their unique crypto-based freelancing platform, Anytask.
Electroneum has partnered with a variety of companies who now accept ETN transactions, such as South African mobile virtual network processor (MVNO) The Unlimited, and Cambodian telecom provider Cellcard. Anytask, a freelance platform modeled after Fiverr, is a marketplace where freelancers can sell their digital services in exchange for ETN, thus allowing them to join the digital economy without a Paypal or a bank account. Ells said, "there has to be a way to earn ETN without having to go to a bank, setting up an account, and then exchanging for Bitcoin and converting to ETN. That just won't happen."
Anytask's ETN-for-services model not only lends real-world value to the currency but is also a common-sense and practical way for those who aren't knowledgeable speculators to earn money. Ells praised the site, "it's only three months and it's already the most successful crypto powered freelance site in the world."
Electroneum's Mission: Bringing Economic Freedom to the Developing World
One of the primary missions of Electroneum is to bring simplicity and ease of access to cryptocurrency to mobile users in the developing world. In addition to partnering with organizations and businesses in developing countries that allow for ETN transactions, people now have the means to earn ETN via Anytask. People who are unbanked can still use Anytask to earn ETN, and there is no service charge.
However, there are still problems with inclusion, mainly due to problems with identity. Ells explained, "Imagine you're sitting in a village in the mountains of Kashmir, or in Africa, and you don't have a passport; you don't know where you were born, or even your date of birth. Suddenly, you are excluded from something that should be there to empower you and give you freedom." In such a case, it would be very difficult for the individual to enter the banking system.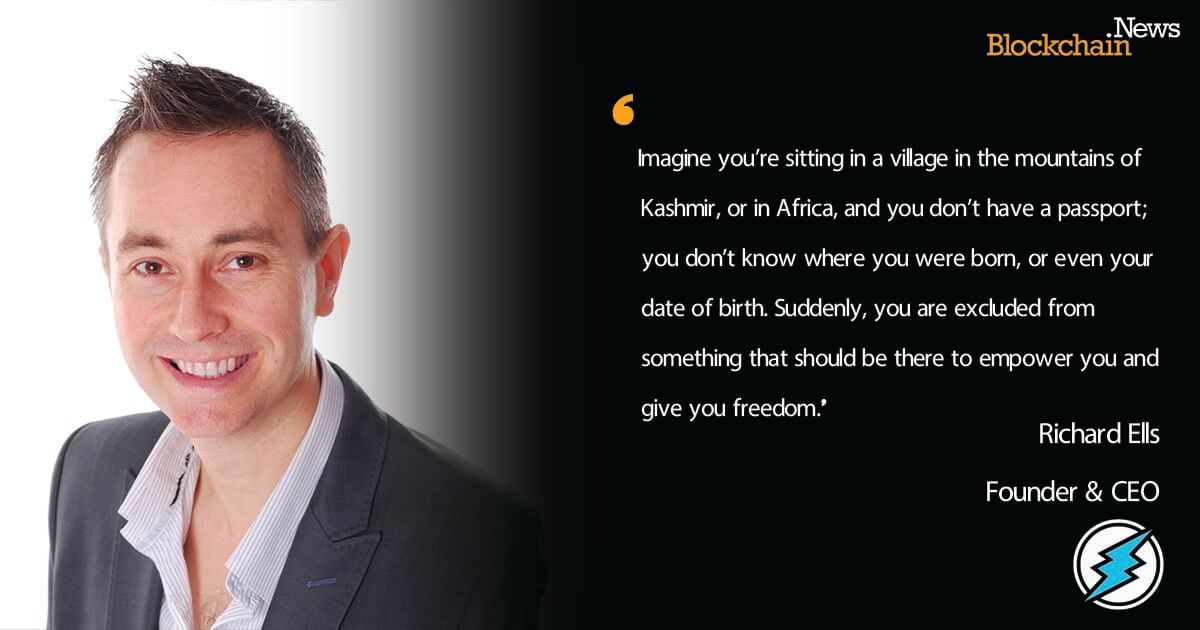 ETN Partners with NGO's to Develop Unique Blockchain with Proof of Responsibility Protocol
In pursuance of financial inclusion, Electroneum has turned to the world of NGOs for help, partnering with South African NGO Ubuntu Pathways, and Project Child Indonesia, who are helping children learn skills and get jobs, and are funded in part by ETN crypto.
Electroneum's blockchain is based on a novel "proof of responsibility" consensus protocol – a framework wherein NGO's with demonstrated credibility apply and are accepted to become blockchain validators. This way, they can earn ETN and convert it into cash while directing it to the communities they serve.
Regarding their centralized, permission-based blockchain framework, Ells said, "Our blockchain currently is exclusively powered by NGOs. So, our block reward is what the NGOs get. We changed to a new protocol we wrote called proof of responsibility because we wanted to get rid of proof of work. We didn't like the amount of electricity used, and were vulnerable to a 51% attack, so we moved across to this thing that we called proof of responsibility, where we found responsible parties that we knew would not attack us. So, we have a centralized aspect some people don't like about us, but we also have a thing that we call the moderated layer. The moderated layer watches all of our trusted entities in case one of them is hacked, and will step in and shut them down. We've also made it so you can't mine sequential blocks, thereby avoiding 'block pocketing' and a double-spend attack."
Under this system, blockchain mining becomes a charitable endeavor, with block rewards going to trusted NGOs to be used accordingly, rather than to individuals who merely seek a profit. Funding NGOs with cryptocurrency is a novel concept and expands crypto into an entirely different space.
Moving Forward with Universities; Electricity Top-ups
Electronium will be partnering with several universities, such as MIT, the Indian Institute of Technology, and the Philippines Institute of Technology to join NGOs as validators, thus widening the distribution of trusted organizations validating the blockchain, and contributing to greater security of the blockchain. As a reward, the university and its students who work on the blockchain will be given ETN, which they can make use of for other projects. Ells hopes that having universities involved as validators will lend additional credibility to their blockchain as universities are knowledgeable about the technology involved.
With the help of NGOs, Electronium has also launched an electricity top-up function on their app, which they hope to continue to expand to other countries. Currently, they are working with four countries – Gambia, Mali, Nigeria, and Senegal – to allow users to pay for electricity with ETN. The value for electricity companies comes from the convenience of payment, without having to wait for in-person payment that may be delayed due to underdeveloped infrastructure.
One of the biggest issues facing the currency seems to be getting the attention of the rest of the crypto world. Right now, companies like Cellcard who accept ETN are worried that if users start making large transactions, then they in turn cannot exchange a large amount of ETN for dollars without drastically reducing the price. So, they need to enlarge the market, and for that, they need people in the crypto world to start trading it. Ells said, "this is the tricky part. Our users are not crypto community traders. They are real people in the real world, and they are therefore not communicating with the crypto people and the crypto people are not communicating with them. We need to get the crypto community to understand it. The market isn't big enough right now, and so we do need the crypto community to start trading because that gives us volume." From an advertising standpoint as well, getting hype in the crypto community wouldn't be a bad thing.
Despite being somewhat under the radar in the crypto world, and still waiting to get acceptance from Binance to be traded on their exchange, Electroneum is making real-world change, and their numbers back it up, having one of the strongest communities out there.