El Salvador has started reaping from its Bitcoin investment because profits have started being channelled towards infrastructural development. 
Speaking during the groundbreaking ceremony of the nation's first veterinary hospital funded by BTC profits, President Nayib Bukele said that the country would construct 20 new schools by using part of the returns. 
Bukele said:
"I want to announce that with a few million that we have left from the profits of Bitcoin, we are going to build 20 Bitcoin schools, fully equipped and modern." 
The president added that more works would come from profits gained from a Bitcoin trust that was previously created. 
In September, El Salvador purchased 150 new Bitcoins bringing its accumulation to a total of 700 BTC.
El Salvador has been making significant strides in the crypto space since it became the first nation to legalize Bitcoin as a legal tender in June. 
For instance, its decision to use volcano power to mine BTC was propelling the leading cryptocurrency's quest to accelerate the development of renewable energy. Furthermore, El Salvador emerged third in terms of global Bitcoin ATM installations.
Is Bitcoin's consolidation nearing an end?
Bitcoin has been consolidating since it set a new all-time high (ATH) of $66,900 on October 20. The leading cryptocurrency was down 2.16% in the last 24 hours to hit $61,713 during intraday trading, according to cryptocurrency="" space.="" its="" missio…="">CoinMarketCap.
Nevertheless, on-chain analyst Will Clemente believes that this consolidation may come to a halt soon as illiquid supply continues to rise. He explained:
"Another uptick in illiquid supply shock, now breaking slightly above 2021 highs. Currently at the highest level that it's been since late 2017. Think this local BTC price consolidation is nearing an end soon."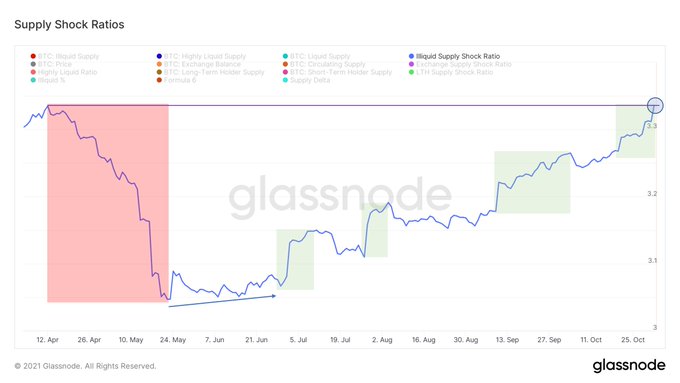 With Bitcoin expected to continue soaring, this surge will be instrumental in enabling El Salvador to revamp the nation's infrastructure. 
Image source: Shutterstock