China has strengthened the supervision of cryptocurrency mining and related trading, causing "fear, uncertainty, and doubt" (FUD) sentiment have intensified among investors. cryptocurrency, based on the proof-of-work blockchain. Bitcoin was created in 2009 by a mysterious creator, Satoshi Nako…">BTC/USDT plummeted nearly 10% today, as low as $32,266.
China's third-largest bank, Agricultural Bank of China, issued an announcement prohibiting bitcoin and other cryptocurrency transactions through Agricultural Bank's services.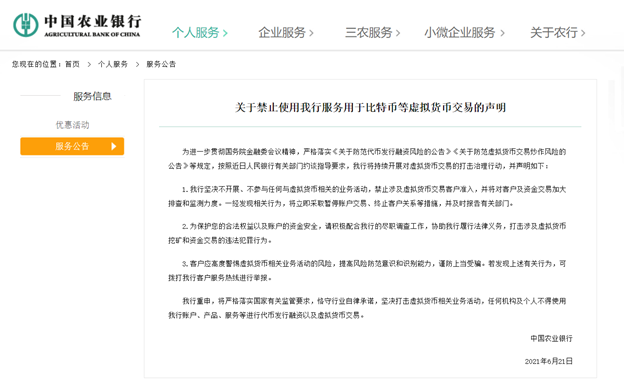 The announcement stated that the financial institution would comply with the guidance of the relevant departments of the People's Bank of China, prohibit cryptocurrency trading customers from entering, and resolutely crackdown on cryptocurrency-related businesses. No institution or individual may use Agricultural Bank accounts, products, and services for token issuance financing and cryptocurrency transactions.
The statement emphasized that:
"Once relevant behaviors are discovered, account transactions will be immediately suspended, customer relationships will be terminated, and relevant departments will be reported"
The restrictions imposed by Chinese banks on cryptocurrencies caused a large-scale sell-off of the Bitcoin bearish side. Bitcoin fell by nearly $1,000 within a few minutes and hit a low of $32,266 on BTC/USDT on Monday. Ironically, the Agricultural Bank of China has deleted the related announcement within a few minutes.
As previously reported by Blockchain.News, Chinese miners, are also facing a solid blow from the Chinese government. Bitcoin hashrate hits 8-month low as China intensified law enforcement against domestic Bitcoin mining activities.
According to local media's coverages, Bitcoin mining sites in Sichuan Province were reportedly massively disconnected by losing power supply and lost their abilities for further mining operations.
Charles Edwards, CEO of asset manager Capriole, said on Sunday:
"The Bitcoin network has just experienced the biggest attack in its history.The worst case scenario for a China mining ban has now played out."
According to cryptocurrency="" space.="" its="" missio…="">Coinmarketcap, Bitcoin, as the largest cryptocurrency, has dropped by 6.34% in the past 24 hours and 17.84% within a week.
At press time, Bitcoin was trading at $33,153.90
Image source: Shutterstock