Bitcoin (cryptocurrency, based on the proof-of-work blockchain. Bitcoin was created in 2009 by a mysterious creator, Satoshi Nako…">BTC) has been consolidating between the $30,000 and $40,000 range ever since the top cryptocurrency dropped from an all-time high (ATH) of $64,800 recorded in mid-April. 
BTC was trading at $36,890 during intraday trading, according to CoinMarketCap.
Chris Weston, the head of research at Melbourne-based broker Pepperstone Financial Pty, believes that Bitcoin ought to trade above the top of the present range of $40k for bulls to feel that they are out of vulnerability.
He explained:
"The virtual currency needs to push into $39,460 and the top of the recent range to really attract, but we will need to see a break here for the bulls to feel we're out of this period of vulnerability."
Bitcoin has gained momentum from lows of $32k recorded recently after El Salvador became the first nation to accept Bitcoin as legal tender to boost the country's economy and aid financial inclusivity. 
Crowd interest for BTC hit a 3-week high
According to on-chain metrics provider Santiment, the spike that Bitcoin experienced above $36k triggered crowd interest in the leading cryptocurrency to hit a 3-week high. Nevertheless, interest in blockchain space. Through these sm…">Ethereum (ETH) has remained suppressed.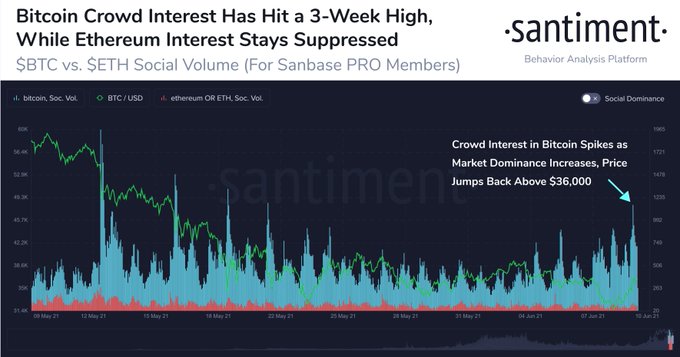 The recent market crash witnessed in the crypto space that drove Bitcoin's price from highs of $64.8k to lows of $30k negatively affected miners as their profit margins were considerably slashed. As a result, their net flows turned negative. 
Meanwhile, SkyBridge Capital founder Anthony Scaramucci noted that investors should accept Bitcoin's volatility because it is still in its early adoption stage. 
The former White House communications director also pointed out that BTC was obeying Metcalfe's law, which states the value of a network is proportional to the square of its users.
It, therefore, remains to be seen whether Bitcoin will push above $40k for an upward momentum to be activated.  
Image source: Shutterstock