Things were not rosy for Bitcoin (BTC) mining even before the Chinese authorities intensified the crackdown on this sector in May.
Recent research conducted by the Cambridge Centre for Alternative Finance (CCAF) indicates that China's share of mining fell from 75.5% in September 2019 to 46% in April 2021.
As a result, BTC mining has become more geographically distributed, as acknowledged by Documenting Bitcoin. The crypto analytic firm explained:
"Bitcoin mining is becoming more geographically distributed—China now has less than 50% of the total hash rate, with the United States being the largest beneficiary. Like the open Internet, a wealth transfer from East to West."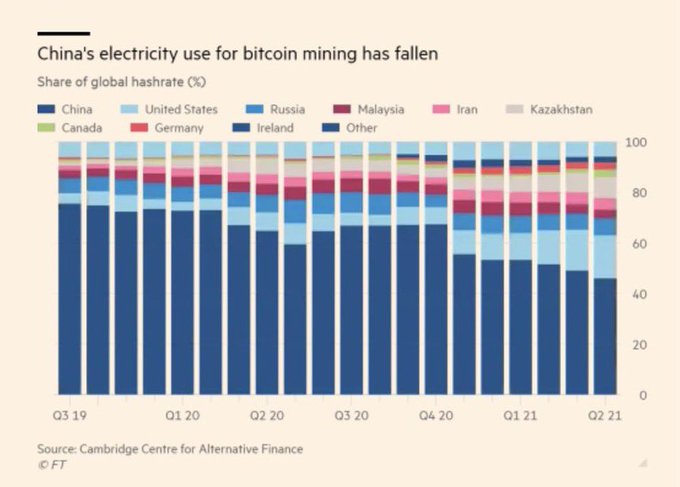 Therefore, the United States has emerged as the biggest beneficiary, and the BTC mining sector seems to be shifting from the East to the West. 
These sentiments were echoed by the CCAF study, which disclosed that the US share of hashrate skyrocketed to 16.8% from just over 4%. Kazakhstan, Russia, and Iran were the other beneficiaries. 
The hashrate is used to measure the processing power of the BTC network. It, therefore, allows computers to process and solve problems that would enable transactions to be approved and confirmed across the network.
Bitcoin's hashrate fell by 52.5% following the Chinese ban
According to on-chain metrics provider CryptoCompare:
"Following China's ban, BTC's hash rate fell by 52.5% – from 181.61Mn TH/s on May 13 to 86.19Mn TH/s on July 2. These levels haven't been seen since 2019 when the hash rate averaged 90.45Mn TH/s."
On July 14, Anhui, an eastern Chinese province, became the latest region to shut down all crypto mining activities, citing an acute power shortage. 
Some crypto analysts had previously acknowledged that BTC mining might become more profitable and more accessible following China's ban and the US looks set to reap big from this development. 
Image source: Shutterstock