Bitcoin (BTC) has been associated with high volatility rates, which at times causes goosebumps to investors. For instance, the leading cryptocurrency recorded a 50% daily loss in May after hitting lows of $30K as China intensified the Bitcoin mining crackdown. 
In March last year, a similar scenario was witnessed as Bitcoin nosedived to lows of $3,800 as the coronavirus (Covid-19) pandemic continued to wreak havoc globally.
Nevertheless, market analyst Holger Zschaepitz believes BTC is slowly coming of age because mild price swings have not been witnessed days after hitting a new all-time high (ATH) of $66,900. He explained:
"It looks like Bitcoin is slowly coming of age. Volatility has always been a defining characteristic of Bitcoin, with price swings usually increasing when new highs are reached. Now it appears gyrations are diminishing despite the recent rise to an ATH of almost $67K."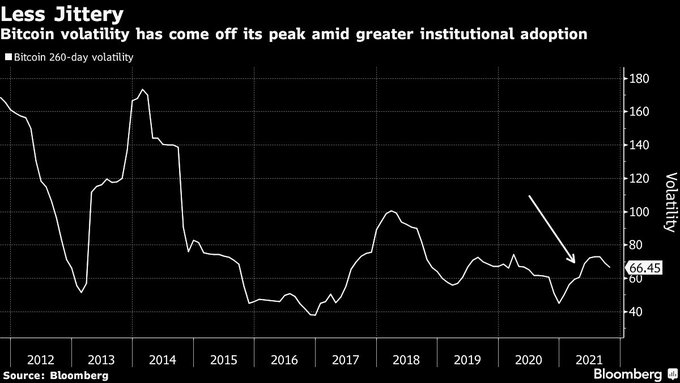 Does Bitcoin experience consistent daily sell pressure?
According to on-chain analyst Willy Woo:
"The BTC network undergoes a constant daily sell pressure independent of investors selling. 2017 was simple. 2021 is more complex. Oct 2017, Miners: 2134 BTC. Oct 2021, Miners – 917 BTC, Futures Fees Revenue – 944 Bitcoin, GBTC Fees Revenue – 30 BTC, Proshares ETF Contango Rollover – 8 BTC."
Woo added that every business operation on the network that earns revenue in Bitcoin will sell BTC to pay for operational costs, which represents a constant sell pressure on the network.
Meanwhile, BTC miners are showing a behavioural change because they have transformed into holders and buyers since 2020. 
This trend change might have been prompted by unprecedented factors like Bitcoin mining being unwelcome on Chinese soil. For instance, more than 90% of China's crypto mining capacity was lost after authorities disconnected BTC mining sites in Sichuan in June. 
Image source: Shutterstock