The cryptocurrency market offers a plethora of opportunities for traders to make profit. It works the best only when these opportunities are leveraged at the right time, which calls for the use of specialized trading tools. Altrady is one such cryptocurrency trading software that is perfected over time to equip its users with the best crypto trading tools the technology has to offer.
As an all-in-one trading platform, Altrady can be used to manage trades as well as crypto portfolios over some of the leading cryptocurrency exchanges in the market. While exchanges are the go-to place for crypto traders, they aren't optimal for professional trading as the interface and tools are designed by keeping retails traders and one-off buyers and sellers in mind. The need for specialized software is felt across the community and recognizing the genuine need, a team of traders who are familiar with these challenges have created Altrady. In addition to basic functionalities, Altrady incorporates powerful trading tools that readily offer a better insight into the market, a trove of historical and real-time analytical data, news alerts with market updates and intelligent market scanning mechanisms to make the decision process easier for traders.
Features that Make Altrady Stand Out
The most prominent feature of Altrady is its Smart Trading feature that offers a wide range of flexible trading options for users. The Smart Orders feature allows users to maintain full control over their positions by simplifying entry orders and automating exit orders. The features can be used to place three types of orders, viz., Market Order, Limit Order and Ladder Order.
Using Smart Orders, traders can either choose to open a new position or extend existing positions by adding more orders. The existing positions can be further customized by selecting desired start data and time or manually entering information regarding the average entry or exit price, quantity, and cost. They can also pick the order side and select Buy (Long) or Sell (Short) based on their preference.
For added convenience, Altrady is also working on support for form preset where users can create trading form templates. These templates can be readily picked from the list and used to execute orders. The order forms themselves are clear and well-defined for traders to set the relevant parameters.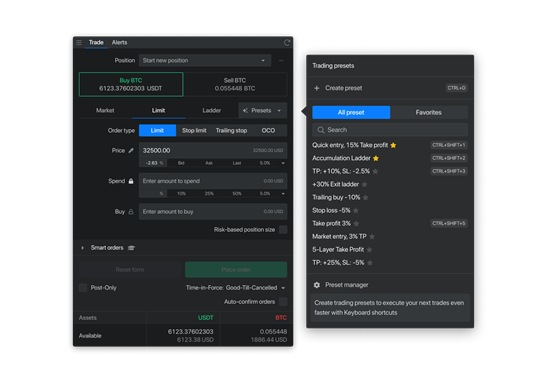 The Smart Orders feature enables increased automation of trades by offering a way to set a variety of conditions for all order types. Traders can choose to enter their own expiration time for entry orders, take profit conditions based on scales and targets. Soon, it will be incorporating an innovative "Keep free coins" option where users can choose to recover the initial investment in a crypto pair while retaining the profit in coins instead of USDT or other stablecoin.
Easy Portfolio Visualization
Altrady will incorporate widgets that provide a bird's eye view of the portfolio.
My Position Widget
The My Positions widget will display all smart positions, enabling users to track and modify their orders while the assets table gives an overview of all available crypto assets, amount locked in open orders and total equity at any particular given time.
Made to Suit Your Tastes
The highly customizable interface on Altrady can be modified as per each trader's preference. They can choose how their trading screen looks like. Using this feature, traders can ensure that the trading pairs, market data and analytical tools and charts they favor are prominently displayed on their home screen at all times. The ready availability of desired information at fingertips significantly cuts short the time otherwise taken to navigate through the platform, thereby giving an advantage over traders on conventional exchange/trading platforms. Even a slight improvement in reaction times on a highly volatile crypto market may mean a huge difference in profit and loss percentages.
Ready to Use on Any Device
The Altrady crypto trading and portfolio management software is versatile and available on multiple devices. Traders can either opt for the desktop software, a mobile app on Android and iOS devices or the browser-based responsive web trading interface that works on any connected device with browser capabilities.
Supported Exchanges
Altrady users can trade cryptocurrencies on some of the leading exchange platforms with almost zero delay. The list of supported exchanges includes Binance, Bittrex, HitBTC, KuCoin, Coinbase Pro, Kraken, Poloniex and OKEx, with FTX and Bybit to be added soon and many more. Users can trade on any of these exchanges from within the Altrady interface without having to familiarize themselves with each platform's interface.
Market Scanners Help Keep an Ear to the Ground
The Quick Scan and Crypto Base Scanners monitor the price movements in the crypto market and notify traders about upcoming profit-making opportunities.
Quick Scan provides alters on potential scalping and other profitable opportunities whenever the price of a crypto asset goes up or down.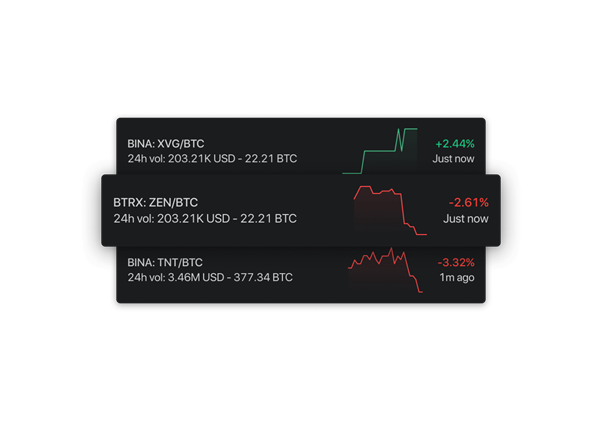 Meanwhile, Crypto Base Scanner is optimal for traders opting for QFL trading strategy where this tool provides them information about the preferable entry points and automatically notifies them of any opportunity to generate profits while following the QFL strategy.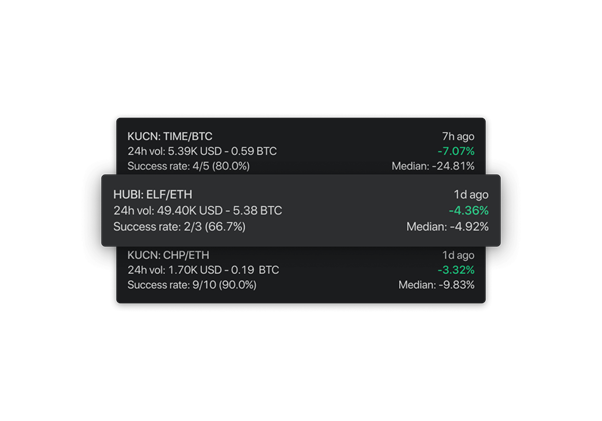 Pricing
The Altrady platform is available in three different plans that are suitable for traders with different expertise levels and earning expectations.
The Basic Plan costing EUR 14.95 per month provides almost all the functionalities that are available on the Altrady ecosystem apart from few advanced trading strategies and analytics. It is a good entry point for anyone exploring Altrady and based on their changing needs, they can upgrade to a more suitable plan on a later date.
The Essential Plan offers all the Altrady functionalities at a monthly subscription fee of EUR 29.95. However, users of this plan will miss out on two exclusive features that are available only to Premium customers – Base Scanner and Quick Scanner.
Premium Plan is the top-tier subscription package offered by Altrady. It is designed to meet the needs of advanced and professional traders who have many demanding requirements compared to others. Available at EUR 44.95 a month the Premium Plan is a complete all-around package.
All these plans can be either availed on a monthly basis or as an annual plan. Those opting to pay upfront for a whole year get a 30% discount on the total cost, making it an attractive option to consider. However, those who wish to explore the platform in-depth before committing their money can avail of the 14-day trial for free and subscribe only after they are convinced about its effectiveness.
With the new added features and Altrady roadmap it's very possible that the pricing will change soon.
Additional Resources
Altrady Crypto Trading Academy is a collection of educational resources where users can learn a lot about crypto trading and the platform itself. The step-by-step tutorial enables users to learn everything about crypto trading from scratch and implement it while executing trades. At any point, if the users have any queries or complaints, they can write to the support team or refer to detailed documentation available on the Altrady platform to get it addressed.
More in Store
While Altrady is already is a highly capable, full-fledged crypto trading and portfolio management platform, it continues to improve its offering through constant innovation. The team behind Altrady is working on introducing new features. Some of these latest and upcoming features include Manual Smart Positions, Trading bot Positions, Signals Bot, Grid Bot and more.
The existing and upcoming features on the Altrady platform paves the way for traders to realize the full potential of automated trading. The balance achieved by the platform in terms of speed, usability and convenience makes it ideal for traders to play the market and exploit maximum profit-making opportunities in their favor.
Learn more about Altrady at –  https://www.altrady.com/